Capturing the Commando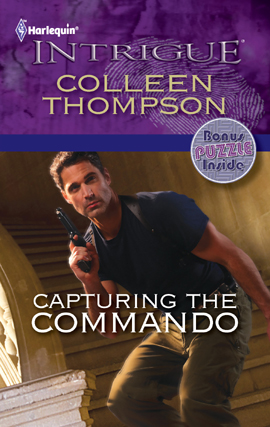 Harlequin Intrigue
June 2011
ISBN 10: 0373695535
ISBN 13: 9780373695539
Amazon.com * BarnesAndNoble.com * eHarlequin.com * Kobo Ebooks * Sony Ebooks
Shannon Brandt's mission had failed—spectacularly. Instead of arresting AWOL Ranger Rafe Lyons, the merciless commando had kidnapped her—a tough, experienced FBI agent. Worse, she'd agreed to a deal with the devil and promised to help Rafe recover his abducted niece.
Before long, her promise becomes a wrenching ethical dilemma. If she breaks the law to reunite a family, she'll ruin her career and dishonor her family. But if she plays it by the book, an innocent life may be lost. To further complicate her decision, Shannon finds herself falling for the arrogant, abrasive—but undeniably attractive—commando…even though this dangerous mission might lead to both their deaths.
 "Thompson understands the heart of a hero! There's no end to the action, and the explosive climax leads to a surprise ending."  –Romantic Times TOP PICK!
Listen to my podcast interview, with Harlequin Intrigue author Paula Graves, on Passionate Radio, with host Rowena Cherry!