Fatal Error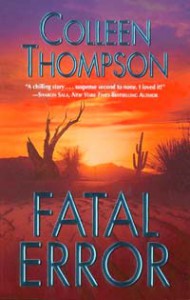 Montlake/Dorchester
December 2005
Get it from Amazon.com
Read Excerpts -> Beginning and the Secret Epilogue!
West Texas gossip paints every story a more interesting shade, especially when a married man goes missing with the local banker's wife and a stolen fortune. Susan Maddox is tired of feeling like an abandoned woman, and even angrier when neighbors act as if she's the one getting away with murder. Maybe her handsome-as-sin, bad-boy brother-in-law is the smartest choice of ally, especially since she's never been able to forget a star-studded night in his convertible back in high school. But who else can she trust to recover damning evidence from her husband's crashed hard drive? Who else is there to pick up the pieces when intruders set fire to her home, a truck runs her off the road, and a trail of dead men stops her cold?
Who else can help her uncover a fatal error?
Rita nominee, Best Romantic Suspense
Winner Texas Gold Award, Best Mainstream Novel
Rave Reviews
"FATAL ERROR is a suspenseful tale that kept this reader enthralled from the first to the last. Luke and Susan are engaging, captivating characters who make the story soar to its highest potential. A perfect 10."- Sinclair Reid, Romance Reviews Today
"Hang on to your seats and get ready for a wild ride with this excellent romantic suspense. This excellent romantic suspense was heavy on suspense but the attraction between Susan and Luke sizzled on every page. This is a one sitting read so be sure to have plenty of time before starting this book. "- Kathy Boswell, The Best Reviews
"Fatal Error is an unforgettable book … a full-bodied tale that takes you deep into the plots, deceit, and the danger spurred by hatred, greed, vengeance, and twisted desire."- Romance at Heart
"Fast-paced, chilling, and sexy…the chemistry that shimmers between Susan and Luke is pure passion."- Library Journal
"Thompson has written a first-class work of romantic suspense."- Booklist
"Excellent characters, a tightly woven, intriguing plot, and superb narrative makes this one hard to put down."- Affaire de Coeur
"FATAL ERROR had me from page one, and I couldn't turn the pages fast enough. I expect more great books li ke this one from this clever author." – Romance Roundtable
"I love the story but I also love the writing. Colleen Thompson has Small Town, USA, down to a science." – Romance Reader at Heart (Top Pick)